Dear Friends,

Harmon-Meek|modern occupies the ground floor of the new contemporary 382 building at the corner of 12th Ave S and 4th St S. In this space, we exhibit contemporary group shows with many of our forty-five artists, featuring different artists every month.

For the month of November, Harmon-Meek|modern is featuring the artist Francine Tint. Francine Tint is a New York based abstract expressionist painter. She studied painting at Pratt Institute as well as the Brooklyn Museum College. Francine is a recipient of the prestigious Pollock-Krasner Grant.

Tint has been referred to as "one of the strongest and most communicative of the current color field painters" by Phyllis Herfield in the New York Review of Art. Her work has been described as "both visceral and cerebral ... explosively energetic and pensive." Tint states that "great art comes from the art itself. When art is good, it sweeps away doubt and creates its own meaning."

Tint's work has been exhibited in over thirty solo shows in the United States and Europe, and is in the permanent collections of numerous museums including the Clement Greenberg collection at the Portland Art Museum and the Krannert Art Museum in Chicago. Her work is in private and corporate collections including Pepsi Co. and Mount Sinai Hospital.

Warm regards,
Juliana Meek
Owner-Director

OPEN Tuesday-Saturday, 12:00-5:00
and by appointment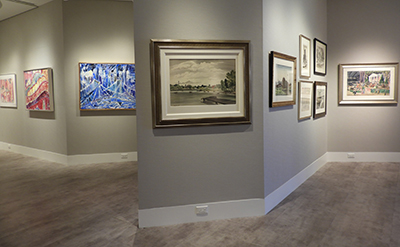 "Turks and Caicos II" by Francine Tint acrylic on canvas, 49" x 63", 2016