Dear Friends,

In the second annual solo exhibition at Harmon-Meek Gallery, Jenness Cortez continues her masterful reexamination of the classic paradox of realism: the painting as both a window into an imaged space and a physical object in itself. When it comes to her creative process she reveals: "sometimes the finished piece appears in [my] mind full-blown, and at other times it is amorphous – yet with some beguiling character that begs to be developed. In either case, between that first inspiration and the finished painting lie hours of research, thousands of choices and, of course, the great joy of painting. The process is organic. Even with a well-conceived composition in place, the painting has a life of its own and the best ones surprise even the artist with twists and turns that outshine the most clever of plans. It's as if the creative spirit insinuates itself into the work, wanting to serve its own best interest with solutions that far exceed the artist's original, limited vision." Cortez masterfully presents iconic, easily recognizable and well-loved works in unexpected modern or even humble settings of a bookshelf or over a flowery couch, thus inspiring us to see the homage work differently and to rediscover and reinvestigate both the homage work and it's relation to the world Cortez has painted around it.

Jenness Cortez solo exhibition will run February 12 - 22.

We offer private showings of a wide selection of works by the artists we represent. We provide private art consultation and can bring works to your home or office within Southwest Florida. During the season we show new exhibitions regularly starting in November and running through April. Please contact us for more information.
Warm regards,
Kristine Meek
Owner-Director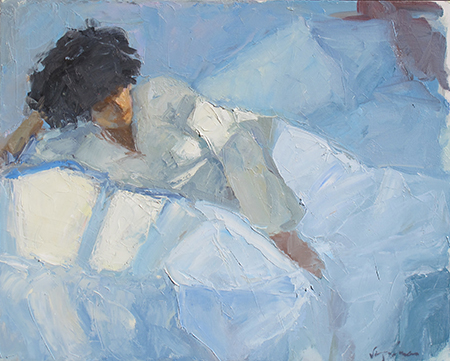 "Pop" by Jenness Cortez
acrylic on mahogany panel, 30" x 24", 2017
(homage to Andy Warhol)