This neo-expressionist is widely known for his colorful oils of tropical birds, butterflies, bunnies, famous faces, and various other animal forms such as ocelots and monkeys. His work has become a national sensation with write-ups in the Wall Street Journal, the Avenue and Art & Antiques.

Slonem credits his far-flung upbringing with nurturing his love for things devout and exotic. As the son of a Navy officer, he spent his childhood on military bases all over. He grew orchids in Hawaii and later collected stamps and butterflies in Louisiana. He studied in Nicaragua, Mexico and New Orleans. His constant has always been art with Picasso being an inspiration early in his childhood.

Since 1977, Hunt Slonem has had more than 350 exhibitions at prestigious galleries and museums internationally. In 2010 there are shows in the Coral Springs Museum, Coral Springs, Fl; Museo de Arte El Salvador, San Salvador, Columbia; Meadows Museum of Art, Shreveport, LA; Paul & Lulu Hilliard Museum, Lafayette, LA; McMullen Museum, Boston, MA; National Museum of Art, Sofia, Bulgaria; and more. Globally, more than 100 museums include his work in their permanent collections, among them the Metropolitan Museum of Art, the Solomon R. Guggenheim Museum and the Whitney Museum of American Art in New York City. He has been commissioned to paint largescale murals for the Bryant Park Grill, New York City and the former World Trade Center, NYC.

There are several published books about Hunt Slonem including:
- "Birds - Hunt Slonem" with a forward by Jacquelin Bograd Weld and essay by Anthony Haden-Guest. Published in 2017, about his use of birds as a subject matter.
- "Bunnies - Hunt Slonem" with a forward by John Berendt and essay by Bruce Helander. Published in 2015, about his use of rabbits as a subject matter.
- "Pleasure Palaces: The Art & Homes of Hunt Slonem" with text by Vincent Katz. Published by PowerHouse Books in 2007.
- "Hunt Slonem, An Art Rich & Strange" was published in 2002 by Henry R. Abrams which features text by Donald Kuspit.

Slonem divides his time between Louisiana where he owns two plantation homes on the historic register, Albania in St. Mary's Parish and Lakeside in Pointe Coupee; and New York City where he has lived and worked since 1973. Hunt Slonem received the prestigious "Stars of Design" award in art October 2009 in New York City, the Greenshields Foundation award in 1976, the National Endowment for the Arts Grant in 1991, and numerous others. He studied painting at Skowhegan School of Painting & Sculpture in Skowhegan, Maine; Vanderbilt University in Nashville, TN; and received a Bachelor of Arts degree from Tulane University of Louisiana.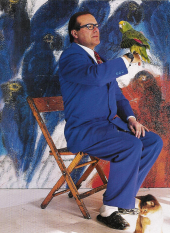 Hunt Slonem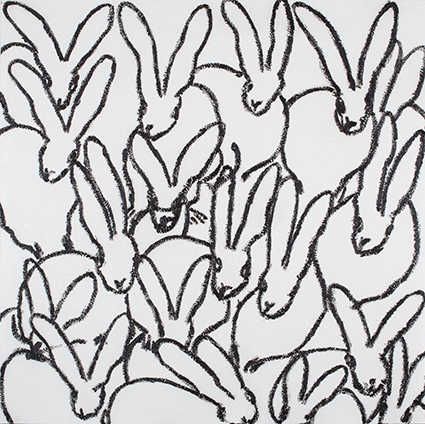 "White Diamond Bunnies" by Hunt Slonem
Oil on canvas, 48"x48", 2016