Memorial Retrospective 2022 (pdf file)
Works of Beaches in Oil (pdf file)
Works of Beaches in Pastel (pdf file)
Works of Interiors/Woodstock/NYC in Oil (pdf file)
Works of Interiors/Woodstock/NYC in Pastel (pdf file)
Monotypes (pdf file)
Watercolors (pdf file)
Small 5"x7" Watercolors (pdf file)
Special Early Works (pdf file)
Born at Coney Island, NY in 1934, Richard Segalman actually had his first exhibition in Naples in 1959. With works in more than 40 permanent public collections and the subject of two published books, Richard Segalman's critical acclaim has grown steadily over the course of his seven-decade career. Harmon-Meek Gallery has proudly represented Richard Segalman since 1981.

Segalman's talent was obvious from his earliest charcoal drawings. Through drawing, Richard explored all aspects of the figure, developing and mastering a special ability to capture and convey feelings and personalities. Several of his early figurative works were purchased by a noted New York collector, David Daniels, who later gave these works to the permanent collection of the Metropolitan Museum of Art. In the 1970s, Joseph Hirshhorn added many works by Richard to his collection and later donated these works to the Hirshhorn Museum and Sculpture Garden.

Richard has always had a great affinity for painting the pristine beaches of Naples. Beyond Naples, Richard also uses his studios in Greenwich Village in Manhattan and his home in Woodstock, NY, for settings for his work. He also spent a period of time in Santa Fe in the 80s. Since his early days of charcoal drawings, Richard has adopted many types of media, always pushing himself and his work forward.

Represented in over 40 museum permanent collections including the Corcoran, Arkansas, Hirshhorn, Boston MFA, Minn. Inst., St. Louis, Butler Inst.,Smith College, Montclair, and others - Segalman is adding two to three more each year. He has been represented by the Harmon-Meek Gallery since 1981 and has had a solo exhibition every year since that date. His annual show is usually in February or March.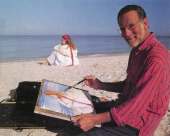 Richard Segalman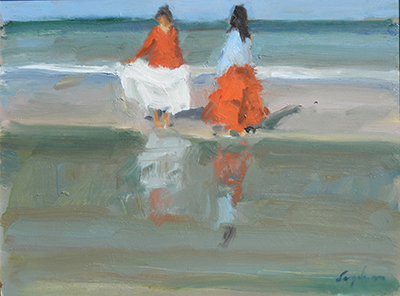 "Reflections II" by Richard Segalman
oil on panel, 12"x16", 2020