Drawings and Lithographs of People, including humor (pdf file)
Watercolors and Caseins of People, including humor (pdf file)
Drawings and Lithographs of Places (pdf file)
Watercolors and Caseins of Places (pdf file)

Adolf Dehn was one of the most notable lithographers of the 20th century, known for both his technical skills and his depictions of human eccentricities. Today he is in over 80 museums, including every major museum in New York City. He still holds the record for inclusion in the most Whitney Museum of American Art "Annual" and "Biennial" than any other artist to date. But Dehn's path to fame and success was long and by no means rosy. Poverty, neglect, crises of confidence, changing art tastes, and epic events such as the First World War and the Great Depression dogged Dehn throughout his career which spanned over half a century.

Born in Waterville, Minnesota, in 1895, Adolf Dehn created artwork from an early age and after formal training began creating ink drawings and lithographs by 1920. His images of the Roaring '20s, the Depression era and New York City appeared in magazines including Vanity Fair, Vogue and New Yorker. His lithographs spoofed all aspects of society, and his watercolors depicted beautiful landscapes.

From his early years, Dehn was defiant of authority. He read controversial books and spouted unpopular political opinions. After imprisonment as a conscientious objector to WWI, Dehn left for Europe where he spent time with other Bohemian artists and intellectuals including his then best friend E.E. Cummings. In Vienna, Dehn fell head over heels for a young free-spirited Russian dancer and refugee, Mura Ziperovitch. They would have a passionate romance and unconventional marriage through the 1920's.

In 1930 he made New York City his home once more. His exhibition at Weyhe Gallery in April brought rave reviews but few buyers thanks to the Great Depression. By October 1930, Dehn's personal depression had deepened; he wrote to his sister Olivia: "There is so goddam little to tell that is good. The season's bad, everyone is depressed and I am too. Broke as hell..." Within several years Dehn's marriage to Mura would collapse under various pressures.

Yet during World War II he published the highly respected book Water Color Painting and met Virginia Engleman who was working at the Associated American Artists Gallery in New York City. After five years of persistent courting, Adolf married Virginia in 1947.

On the heels of his success as a landscape watercolorist and chronicler of various American regions during the Depression, Dehn undertook several commercial commissions starting in the late 1940's, including Standard Oil. Dehn completed numerous drawings and watercolors of oil fields and industrial activities in Venezuela, Mexico, and Louisiana.

The income enabled Adolf and Virginia to travel to South America and Asia. They spent two winters in Florida's Key West followed by a long stay in Haiti. In 1958 they traveled to France, Greece, Turkey, Lebanon, Afghanistan, India, and Kashmir. His works from these trips are some of the most treasured. His many trips and years of technical struggle with lithograph stones had taken their toll and he suffered a massive heart attack in 1968.

Adolf Dehn once said, "My attitude to life is rather sinuous - and sensual too - and only after I have filled myself with sinuous experiences can I go about working. Putting it simply: when I am fed up, I work. I am crazy about life and want to have as much out of it as I can. Take away my work and I lose interest in life, yet the work comes after my living life, or rather out of it."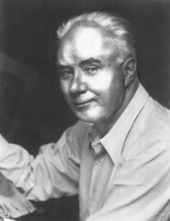 Adolf Dehn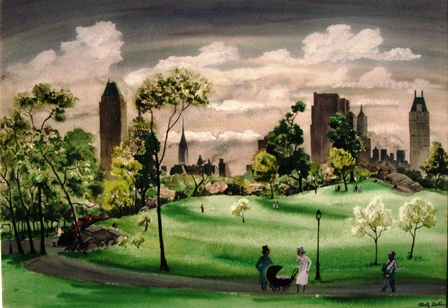 "Central Park Stroll" by Adolf Dehn watercolor, 21"x30", 1942
A painting similar in subject matter, and painted one year earlier than this work has been owned by the Metropolitan Museum of Art since the 1940's and is currently being reproduced in many forms from posters to umbrellas for purchase through their store.