Born in Waterville, Minnesota, Adolf Dehn created artwork from the age of 6 and after formal training began to create ink drawings and lithographs by 1920 for sale. The lithography medium was so dear to him that by 1967 he had created some 637 images, which were documented in a catalogue raisonne by the Minnesota Historical Society in St. Paul. (That museum, as well as the Portland Museum of Art in Oregon, have in their permanent collections all images).

Dehn left Minnesota for Europe in the early 1920's and his cabaret, park scenes, burlesque and landscapes of the roaring 20's in Europe represent most of his imagery. He returned to the Midwest during the depression and lived on the sales of lithographs and by 1936 started working in color in the watercolor medium.

His Midwest, and later northeast farmscapes, became his favorite subjects during the 193's and 40's. He also spent much time in his eventual home of New York City and also captured the essence of the city's burlesque, Central Park, Harlem night clubs, and high society.

He was included in every Whitney Museum of American Art "Annual" and "Biennial" invitational exhibitions from the opening of the museum in the 1930's and into the early 1960's, still holding the record for being in more of these prestigious shows than any other American artist. He is represented in the permanent collections of more than eighty museums. More than twenty museums have in excess of two hundred works in their respective collections and another thirty museums have in excess of fifty works. His estate has been represented by this gallery since 1970 where he has had several exhibitions since 1981 including a major retrospective.

The Harmon-Meek Gallery has lithograths, drawings, and watercolors from his estate.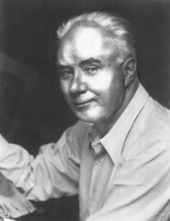 Adolf Dehn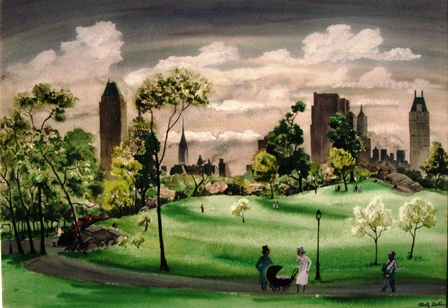 "Central Park Stroll" by Adolf Dehn watercolor, 21"x30", 1942
A painting similar in subject matter, and painted one year earlier than this work has been owned by the Metropolitan Museum of Art since the 1940's and is currently being reproduced in many forms from posters to umbrellas for purchase through their store.