Dear Friends,

We open our 55th Season in Naples with a solo exhibition for Herman Maril - "Aspects of the Figure, Artwork from 1932-1985). Herman Maril was born in 1908 in Baltimore and pursued art from an early age with formal training at the Maryland Institute of Fine Arts. After working on federal art projects during the Depression and serving in World War II, he began a 30 -year period as an art professor at the University of Maryland, College Park. Today, the student gallery and work-on-paper library research room at University of Maryland are named in his honor.

Maril did much of his painting in Baltimore or during summers on Cape Cod, Massachusetts where he was discovered by Duncan Phillips, founder of the Phillips Collection in Washington, DC. The Phillips Collection has 13 works by Maril in their permanent collection – all can be viewed online on the Phillips Collection website . Early fans of Maril's work included Eleanor Roosevelt (who displayed his sketch of Baltimore harbor in the White House) and Vice President Nelson Rockefeller (who kept a Maril canvas in his Washington DC mansion). Walter Mondale selected a Maril painting from the Smithsonian American Art Museum to hang in his office when he was Vice President.

During his lifetime, Maril received critical acclaim and numerous awards from around the country. Today, Maril is in the permanent collections of over 60 museums including the Whitney Museum of American Art, Boston Museum Of Fine Arts, Smithsonian American Art Museum, Butler Institute of American Art, The Provincetown Art Association Museum, Metropolitan Museum of Art, Baltimore Museum, American Academy of Arts and Letters, Walters Art Museum, and the Loos Gallery at the Golisano Children's Museum of Naples.

The human figure is present throughout his life's works and though he often remarked how he would enjoy an exhibition of the figure in his work, it never happened until now. Maril had more than fifty solo exhibitions at galleries and museums during his lifetime and another fifty since his passing. While figurative work was included in virtually every Herman Maril exhibition, his dream of a show dedicated to the figure is finally being realized.

Maril developed a sparse, but lyrical style of American modernism. He eloquently reduced figures and objects to their essence, conveying beauty in simplicity. While primarily Cubist, he achieved a style unique to him and instantly recognizable as 'Maril'. Herman Maril is Baltimore's gift to the visual arts and that gift is still unfolding, as can be witnessed by the lists of museum/gallery exhibitions and acquisitions to permanent public collections. This progressive acclaim for Maril's work has been consistently spreading over ninety years.

Works can be viewed online on our Facebook page. Harmon-Meek Gallery is open Monday – Friday, 10am to 5pm and by appointment. You can also visit us at Harmon-Meek|modern, where many of the artists we represent are exhibited in a group show.

We offer private showings of a wide selection of works by the artists we represent. We provide private art consultation and can bring works to your home or office within Southwest Florida. During the season we show new exhibitions regularly starting in November and running through April. Please contact us for more information.
Warm regards,
Kristine Meek
Owner-Director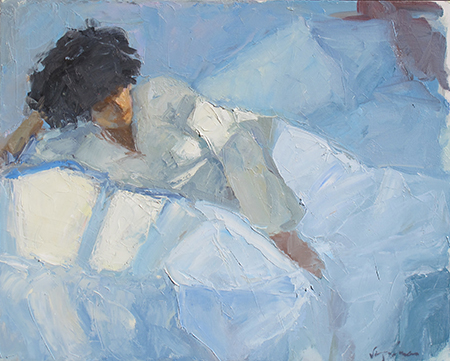 "Esta at the Beach" by Herman Maril
oil on canvas, 20"x24", 1958