Dear Friends,

Happy New Year! We start 2018 with "New York Melodies" a solo exhibition for Jessica Daryl Winer January 8 - 25.

In 2014, Harmon-Meek Gallery introduced Naples to Jessica Daryl Winer, who paints colorful scenes of her native New York City, many of which depict the exciting world of the performing arts. Winer's first love is watercolor and her work on canvas reflects this with her unique technique for capturing the feel of watercolor using acrylic. Her work is in the permanent public collections of: The Museum of the City of New York, The New York Public Library at Lincoln Center for the Performing Arts, American Ballet Theatre, Capezio, and Swarthmore College and most recently, the Golisano Chrildren's Museum of Naples and the Polk Museum of Art at Florida Southern College in Lakeland, Florida.

Jessica Daryl Winer is the featured artist for the fifth annual Visionaries of the Visual Arts Awards on January 9, 2018.

Works can be viewed online on our Facebook page. Harmon-Meek Gallery is open Monday – Friday, 10am to 5pm and by appointment. You can also visit us at Harmon-Meek|modern, where many of the artists we represent are exhibited in a group show.

We offer private showings of a wide selection of works by the artists we represent. We provide private art consultation and can bring works to your home or office within Southwest Florida. During the season we show new exhibitions regularly starting in November and running through April. Please contact us for more information.
Warm regards,
Kristine Meek
Owner-Director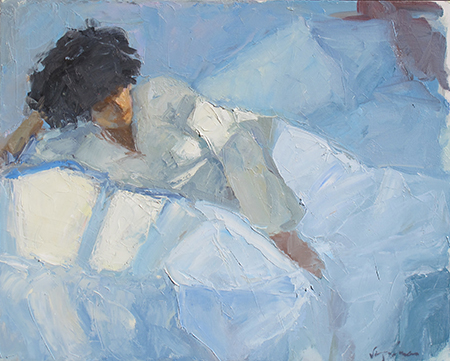 "Jazz Musicians" by Jessica Daryl Winer
watercolor 24"x17", 2016