Dear Friends,

Currently on exhibit is Reynier Llanes (April 9 - 19). Click here to view images of the works in this exhibition.

Last year we had our first solo exhibition for Reynier Llanes and he is back again this year to be the finale for our 55th Season. Llanes was most recently an artist in residence at Northwestern State University of Louisiana. This young Cuban-American artist has been busy with museums shows and creating new works since last April. His recent exhibitions include "Faces in the Crowd" group exhibition at the Polk Museum of Art in Lakeland, Florida from September to December 2017; "Visual Therapy: the effects of art as manifestation on artist and viewer" group exhibition at the Frank, Pembroke Pines, Florida; "The Figure in American Art: Florida Southern College's New Art Museum Collection." June to September 2017; and "Marble Trace" solo exhibition at Northwestern State University of Louisiana in May 2017.

Of his latest works Reynier says: "Before I began painting in my new studio I was studying night scenes, they are intricate and difficult to capture it in paintings - I took the challenge of been seduced by moonlight"

We offer private showings of a wide selection of works by the artists we represent. We provide private art consultation and can bring works to your home or office within Southwest Florida. During the season we show new exhibitions regularly starting in November and running through April. Please contact us for more information.
Warm regards,
Kristine Meek
Owner-Director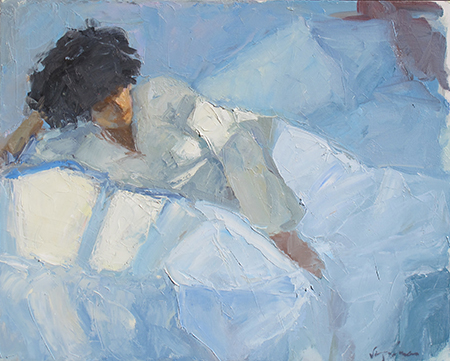 "Rising Star" by Reynier Llanes
oil on canvas, 60"x 48", 2018