Dear Friends,

Thank you for a fantastic 56th Season in Naples!

Harmon-Meek Gallery located in the Capital Bank building is open by appointment only until our 57th Season commences in November.

At our 12th Ave S location we are having a sale with reduced prices on works.

Summer hours at 382: starting June 24 through July, this location will typically be open 12:30-4:30 Thursday-Saturday, but please call first (239) 262-2699. Starting in August through mid october we are open by appointment only.

This is our first sale in our 55-year history ---
--- Next Sale 2074, so don't miss out!

All of the works marked down in this sale are works that are on resale. Over our 55 years, we have had a generous policy of allowing clients to trade back works and to bring works back to us on consignment. The works in this summer sale are comprised of those works. None of the included works in this sale are on consignment direct from the artists we represent.

Our normal generous gallery policies do not apply to this summer sale. All sales are final, works cannot be traded back or returned on consignment. The reduced prices do not include reframing, delivery and installation, or shipping and handling. As usual state and county tax will be applied to the sales price.

Stop by to see the sale!
Warm regards,
Kristine Meek and Juliana Meek
Owner-Directors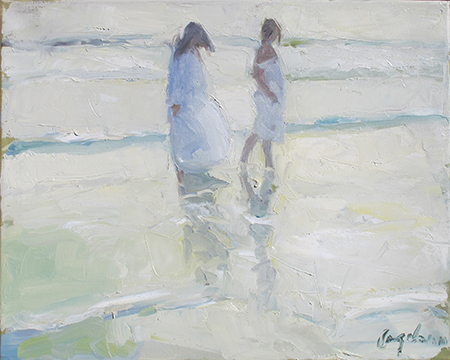 Juliana Meek at 382 12th Ave S with our Special Summer Sale