Dear Friends,

Our current solo exhibition is for Richard Segalman, now through March 28.

We are honored to announce Richard Segalman's 38th solo exhibition with our gallery. Richard continues to express new and innovative ways to create exceptional works of art displaying various aspects of the human form. We are always so excited to receive the shipment of works, which with the exception of a few images, remain largely a mystery until we uncrate!

Represented in more than forty museums from the Baker Museum at Artis-Naples to the Metropolitan Museum of Art in New York City, Richard's largest permanent collections have recently been added to the Polk Museum of Art at Florida Southern College in Lakeland. The museum's new Florida Southern College collection is dedicated to the figure in American art. This collection now includes two "survey collections" of Richard's work. The first collection of 25 black and white monotypes relates to his impressive recent book about his use of that difficult medium published by the non-profit Artists Book Foundation. The second collection of 45 works includes his work in oil, pastel, watercolor, and color monotype. Both of these collections will be exhibited at the museum once every four years and loaned to another museum elsewhere once every eight years. This past summer, the museum exhibited Richard's black and white monotypes, which were used by the College's art program for a series of lectures on this unique and challenging form of printmaking.

We offer private showings of a wide selection of works by the artists we represent. We provide private art consultation and can bring works to your home or office within Southwest Florida. During the season we show new exhibitions regularly starting in November and running through April. Please contact us for more information.
Warm regards,
Kristine Meek
Owner-Director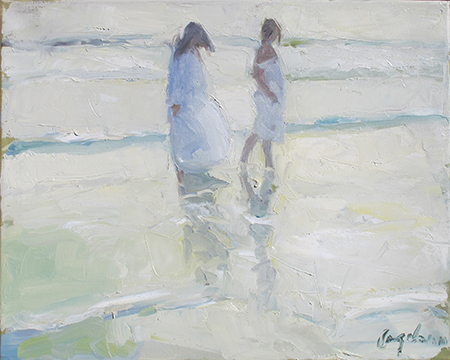 "Celadon Sea" by Richard Segalman
oil on canvas, 16" x 20", 2019

View Available Works (pdf file)