Dear Friends,

Hunt Slonem is best known for his "maximalist" neoexpressionist paintings of wildlife - most famously birds, rabbits and butterflies, though collectors of his work also adore him for his landscapes and portraits as well. Drawing inspiration from the spiritual and natural worlds, Slonem repeats his motifs on an epic scale in an act of visual and artistic mantra. Rendered through loose, gestural brushwork, his figures dissolve into rhythmic patterns at the edges of abstraction, creating symphonies of color, line and form across a highly textural canvas.

While his collectors include Sultans, Sheiks, US Presidents, pop stars, actors, and athletes, his works can be found on public display in hundreds of museums all over the world. Slonem paintings are in the permanent collection of museums ranging from the Metropolitan Museum of Art in New York City to the Metropolitan Museum of Art in Manilla, Philippines. Here in Naples, the Naples Art at the von Liebig Art Center has two works, The Golisano Children's Museum of Naples has three works in their permanent collection and the Baker Museum at Artis-Naples just acquired a large 72"x84" bunny painting for their collection.

Hunt Slonem has been a part of our gallery "family" since the early 1990s and 2021 year marked our 25th annual solo exhibition of his works. With Covid travel restrictions in place, Hunt was unable to join us in Naples for his 25th exhibition. To honor the occasion, we hired a film crew to create a short video interview with questions from our clients answered by Hunt.



Slonem's paintings delight and inspire viewers across all generations through his repetition of subjects, his highly textured use of oil paints and his bold colors. His lifelong love of painting has included subjects ranging from saints to bayous, ocelots and monkeys to birds and butterflies. Hunt Slonem draws on personal experiences from the world around him to inspire his paintings.

For 2022, we selected a large variety of subjects and media - resin, diamond dust, metallic paint, banded paint, as well his sculpture. From round 8 inch works to works covering 80 inches of wall, from white on white to fluorescent bands of colors, from moody landscapes to joyful butterflies, the exhibition has the variety to leave the even the biggest Slonem fans flabbergasted.

With great pride we present to you, this the 2022 Hunt Slonem solo exhibition at Harmon-Meek Gallery.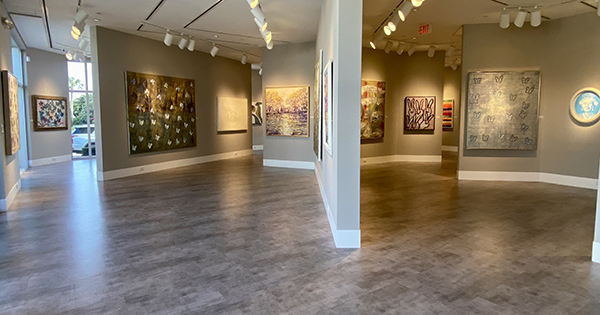 Hunt Slonem 26th solo exhibition at Harmon-Meek Gallery
382 12th Ave S
Tuesday-Saturday 11-5, or by appointment

PDF of Available Works


We look forward to seeing you soon!

Kristine Meek and Juliana Meek
Directors-Owners