Dear Friends,

Our current solo exhibition in for Hunt Slonem, now through February 15.

From CNBC SquakBox to Elle Decor Magazine, and from Dubai to Kazakhstan, Hunt Slonem's reputation only continues to expand. With more than a dozen books published about him including one on the way "Gatekeeper: World of Folly" by Assouline Publishing, Hunt Slonem is seen on walls and on coffee tables in the homes of the most discerning collectors. Even more impressive is the list of over one hundred art museums that have Hunt Slonem in their collections including the Metropolitan Museum of Art, Solomon R. Guggenheim Museum, and Museum of Modern Art in New York City.

Harmon-Meek Gallery is proud to host annual solo exhibitions for Hunt Slonem every year since our 34th Season (1996-1997). For over 20 years we have hand picked the works we like most to share with our clients and every year we are inspired and enthralled with his new work. This year is no exception. From new sculptures to new subject matter to a "new line", this year's exhibition has something new for you.

We offer private showings of a wide selection of works by the artists we represent. We provide private art consultation and can bring works to your home or office within Southwest Florida. During the season we show new exhibitions regularly starting in November and running through April. Please contact us for more information.
Warm regards,
Kristine Meek
Owner-Director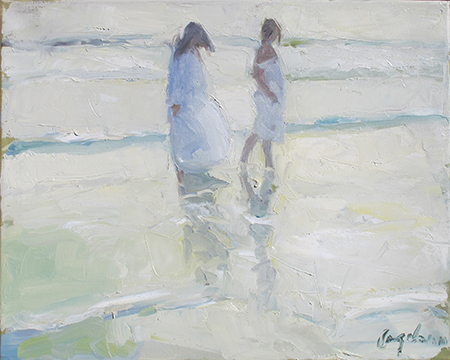 "Bayou" by Hunt Slonem
oil on canvas, 50" x 70", 2018

View Available Works (pdf file)