Dear Friends,

Our current exhibition is Lorrie Goulet with a feature of Darrel Austin, now through May 3.

"Carving stone or wood is the gradual removal of material to allow the shape contained in the block to appear. It is a mirrored reflection of inner feelings, projected through my hands and tools into the material." Lorrie Goulet

Lorrie Goulet has been the recipient of over thirty solo exhibitions and was the subject of an exhibition celebrating the first fifty years of her work at the National Museum of Women in the Arts in Washington DC in 1998. Works in the Harmon-Meek Gallery solo exhibition are hand selected from the recent solo exhibition at the Polk Museum of Art in Lakeland, FL. Harmon-Meek Gallery has represented Goulet for thirty years and this is only our third solo exhibition of her sculpture.

Born August 17, 1925 in Riverdale, New York, and beginning in 1943, she trained under Bauhaus master Josef Albers at the famed Black Mountain College, the experimental art institution in Asheville, North Carolina, that fostered the careers of Cage, Cunningham, de Kooning and Rauschenberg as well. Goulet has taken the female body as her principal subject, chiseling her figures straight from the stone or wood. While each sculpture is unique as its shape and form emerging from the marble, granite or limestone, each is also recognizable as a Goulet.

"I block out beginning with large shapes and forms that please me, and as I move into the stone, the forms gradually define and clarify themselves. Working with a variety of tools that I select or change as I go, the sculpture evolves and beings to grow into the final image… the finished piece. I always try to understand the stone and to work in harmony with it… like a dialogue between good friends." Lorrie Goulet

Darrel Austin Feature

Born in Raymond, Washington in 1907 Darrel Austin spent most of his younger years in Portland, Oregon where during the mid 1930s his earliest paintings were purchased under WPA programs for Timberline Lodge on Mt. Hood and several University medical schools. His first solo exhibition was held at the famous avant guarde Howard Putzell Gallery in Los Angeles in 1938 which exhibited his now rare expressionist series of oils.

In 1940 the internationally famous Perls Galleries in New York City hosted it's first of many Austin solo exhibitions and the artist moved from Los Angeles to north of Danbury, Connecticut. The only other American ever represented by Perls was Alexander Calder.

Through the 1940's and 50's Austin's paintings were featured in almost every art magazine as well as in TIME, Newsweek and LIFE. Most of the major museums acquired his works for their permanent collections including the MET and MOMA.

He was an original gallery artist when Foster Harmon opened this gallery in 1964 and we have hosted many solo exhibitions for this artist who defies being "pigeon-holed" into any art movement. While he worked exclusively with palette knife in oil he was also known for his ink and conte crayon drawings, and also created exceptional pastels in only three years (1943,1956 and 1973).

We offer private showings of a wide selection of works by the artists we represent. We provide private art consultation and can bring works to your home or office within Southwest Florida. During the season we show new exhibitions regularly starting in November and running through April. Please contact us for more information.
Warm regards,
Kristine Meek
Owner-Director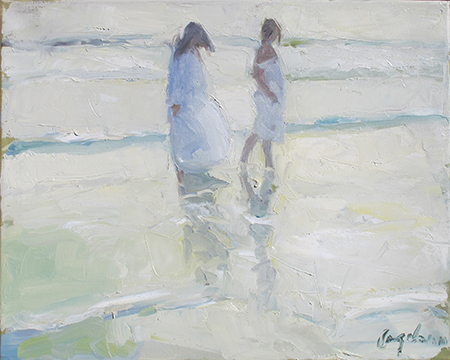 "Calyx" by Lorrie Goulet
African Wonderstone, 9"x14",x10", 2007

View Available Works (pdf file)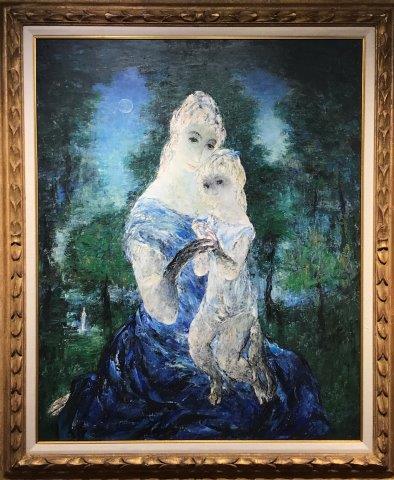 "Mother and Child with Doll" by Darrel Austin
oil on canvas 30" x 24", 1959