Dear Friends,

A holiday tradition at the Harmon-Meek Gallery is the annual "Small Works of Art Exhibition". This year's version will feature: Darrel Austin, Adolf Dehn and Robert Vickrey. Small works by other artists included in the show are sculptors: Babette Bloch, Lorrie Goulet, Anita Huffington, Barbara Lekberg, and Milton Hebald. Painters include: Ellie Barnet, Will Barnet, Byron Browne, Gary Bukovnik, David Coolidge, Jon Corbino, Jimmy Ernst, John Falato, Balcomb Greene, Richard Haas, Tobi Kahn*, Robert Kipniss, Joan Konkel*, Richard Segalman*, Hunt Slonem* and Jessica Daryl Winer*. (* indicates artists that also will be having a solo exhibition this season.)

Darrel Austin (1907-1994) was represented by Perls Galleries in New York City starting in from 1940 to 1982 and Harmon-Meek Gallery since 1964. Austin's paintings are in the permanent collections of many great museums including the Metropolitan Museum of Art in New York, the Museum of Fine Arts in Boston, the Phillips Collection in Washington DC, the Los Angeles County Museum of Art, the Detroit Institute of Arts, and the Pennsylvania Academy of Fine Arts in Philadelphia. Among contemporary American artists Darrel Austin has often been thought of as a loner in the sense that his work is unlike any art movement either during his lifetime or since. Austin has created a unique world, separate but similar to ours with its own particular landscape, its own sun and moon, its own beasts, and its own race of whimsical humanoid inhabitants.

Adolf Dehn (1895-1968), master painter and lithographer, is the subject of a recently published book by the prestigious Artist Book Foundation, "Adolf Dehn: Midcentury Manhattan" by Dr. Philip Eliasoph. Dr. Henry Adams is working on a book about Dehn's entire life and curated a major exhibiton currently on display at the Colorado Springs Art Center at Colorado College. Dehn was included in every Whitney Museum of American Art "Annual" and "Biennial" invitational exhibitions from the opening of the museum in the 1930's and into the early 1960's, still holding the record for being in more of these prestigious shows than any other American artist. He is represented in the permanent collections of more than eighty museums. More than twenty museums have in excess of two hundred works in their respective collections and another thirty museums have in excess of fifty works by Dehn. His estate has been represented by this gallery since 1970 where he has had several exhibitions since 1981 including a major retrospective.

Robert Vickrey (1926-2011), became one of America's most notable "Lyrical Realist" artists and rose to prominence as a master of the egg tempera medium in the mid-century. Generally accepted as the single artist who has done the most for the egg tempera medium in an era of abstraction - including writing two books on the subject. Vickrey has 60 of his portraits (80 total used on the cover of TIME from 1957 to 1968) in the permanent collection of the Smithsonian Institute's National Portrait Gallery. Vickrey is in the collection of more than 80 art museums and had continuous New York City gallery representation from 1951 to 2001. We have shown his work since 1970 and have represented him since 1981, displaying solo shows annually until his death.

Works can be viewed online on our Facebook page. Harmon-Meek Gallery is open Monday – Friday, 10am to 5pm and by appointment. You can also visit us at Harmon-Meek|modern, where many of the artists we represent are exhibited in a group show.

We offer private showings of a wide selection of works by the artists we represent. We provide private art consultation and can bring works to your home or office within Southwest Florida. During the season we show new exhibitions regularly starting in November and running through April. Please contact us for more information.
Warm regards,
Kristine Meek
Owner-Director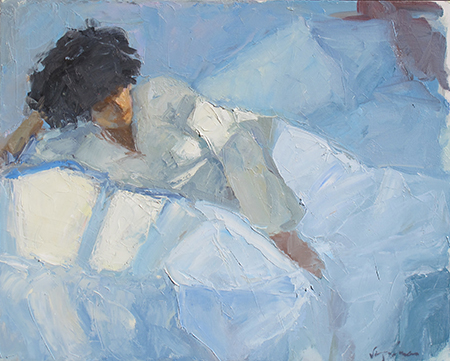 "Watching Beasts" by Darrel Austin
oil on canvas, 8"x10", 1974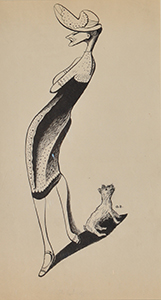 "Dog in Shadow" by Adolf Dehn
ink, 12"x7", 1922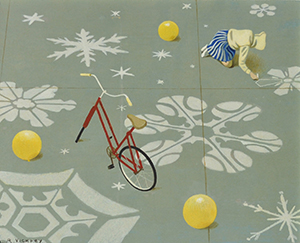 "Dreaming of a White Christmas" by Robert Vickrey
egg tempera, 8"x10", 2010