Dear Friends,

Internationally acclaimed watercolorist, Gary Bukovnik has put together a special collection of new works and works that were just released from the Art in Embassies program. When putting the collection together for this year's solo exhibition, Gary Bukovnik created additional pieces that would bridge the world of art and botanical interest. This year's new works are "more intimate and personal" according to Gary.

Bukovnik's watercolors fuse sensual vitality with fluid yet powerful colorations, creating floral images of great depth and intensity. "I was fascinated by flowers from a very early age. My great grandmother had a rose garden into which no children were admitted. I was perhaps two when I was allowed to enter – hands behind my back – allowed only to smell the blossoms. Sometimes she would give me the fallen petals which thrilled me." Gary Bukovnik

In 2003 and 2005, the American Academy in Rome invited Bukovnik to attend the academy as a Visiting Artist and provided him with a room and studio for six weeks. In 2001, he was selected to create a poster for the prestigious List Collection, which creates posters to commemorate programs at Lincoln Center for the Performing Arts in New York. Lincoln Center past contributors have included Roy Lichtenstein, Andy Warhol, Robert Motherwell, Helen Frankenthaler, Alex Katz, Elizabeth Murray, and Donald Sultan.

Bukovnik's 2014 solo exhibitions included shows at Ansorena Galeria, Madrid, Spain, Today International Art Museum, Beijing, China, and Shanghai Honqiao Museum of Contemporary Art, Shanghai, China. In 2013, Bukovnik had exhibitions in China at Tianjin Museum of Art in Tianjin, Jiya Art Gallery in Quanzhou, and the US Embassy Beijing American Center, Beijing.

Bukovnik's watercolors and monotypes are the subject of Flowers: Gary Bukovnik Watercolors & Monotypes, published by Harry N. Abrams, New York. Gary Bukovnik Watercolors was released in October 2005 by the publisher Hudson Hills Press.

The exhibition will run through March 13 with hours of 10 am to 5 pm, Monday through Friday.

click here to view works from this exhibition.

We also offer private showings of a wide selection of works by the artists we represent. We provide private art consultation and can bring works to your home or office within Southwest Florida. During the season we show new exhibitions regularly starting in November and running through April. Please contact us for more information.
Warm regards,
Kristine Meek
Owner-Director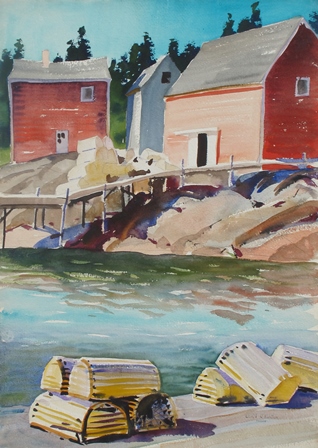 "Tall Rose II" by Gary Bukovnik
watercolor, 26" x 10", 2014


Web Exhibition