Barbara Lekberg's bronze and steel sculpture, which is often based on the figure in motion, has been widely exhibited. Among her solo exhibitions was a major retrospective at Mount Holyoke College during her stay there as a visiting artist in 1977-79. She had her sixth solo exhibition at the Sculpture Center in New York City in 1983. In 1987, she had simultaneous exhibitions in Dallas, Des Moines, and Toronto.

Lekberg's sculpture has been included in group exhibitions at the Museum of Modern Art, the Pennsylvania Academy of Fine Arts, and the Whitney Museum, where she has a piece in the permanent collection. Her work is also in the General Electric Collection in Fairfield CT, and in other public and private collections in the USA, Canada, Bermuda, Brazil, and Sweden

Among Lekberg's awards are two Gugenheim Fellowships and a grant from the Amerian Academy of Arts and Letters. She is an Associate of the National Academy of Design, and teaches at the University of the Arts, (Philadelphia College of Art). She delivered the seventh annual Vincent Glinsky Memorial Lecture at New York University in 1988.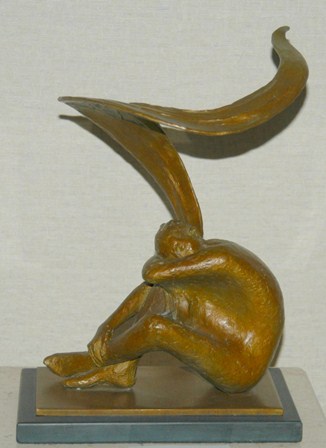 "dreamer" by Barbara Lekberg
Bronze ed. 9, 12"x5"x7", 2002