John Baeder (American, b.1938) is an American painter, most closely associated with the Photorealist movement. His most well-known works are paintings of American roadside diners and eateries. Baeder was born in South Bend, IN, in 1938, but he grew up in Atlanta, GA. When he was young, he photographed old cars and other items with a Baby Brownie camera. Baeder attended Auburn University in the 1950s, and made frequent trips between Alabama and Atlanta, which fueled his interest in roadside diners and rural landscapes.

In 1960, Baeder began to work as the art director for several New York advertising agencies with offices in Atlanta. Eventually, he moved to New York and enjoyed a successful advertising career through the early 1970s. He also continued to paint, photograph, and draw in his spare time. One of his offices was located near The Museum of Modern Art, and Baeder found the photograph department inspirational. He was especially influenced by Berenice Abbott, Ben Shahn, Walker Evans, and others. He started collecting postcards of gas stations, motels, campsites, and diners in the late 1960s.

In 1972, Baeder decided to pursue a full-time career as an artist and left the advertising field. Later that year, OK Harris Gallery in New York offered Baeder his first exhibit. Baeder has since been the subject of over 30 solo exhibitions at galleries such as Modernism Inc. in San Francisco, Thomas Paul Fine Art in Los Angeles, and the Cumberland Gallery in Nashville, along with a traveling exhibition called Pleasant Journeys and Good Eats Along the Way. Baeder paints with both oil and watercolors. His paintings and photographs are included in permanent collections of the Cooper-Hewitt Museum, the Whitney Museum of American Art, the Detroit Institute of Arts, the Yale University Art Gallery, the Indianapolis Museum of Art, the Milwaukee Art Museum, the Denver Art Museum, the Cheekwood Museum of Art, and the Tennessee State Museum. In 2009, Baeder was awarded the Tennessee Governor's Distinguished Artist Award. He currently resides in Nashville, TN.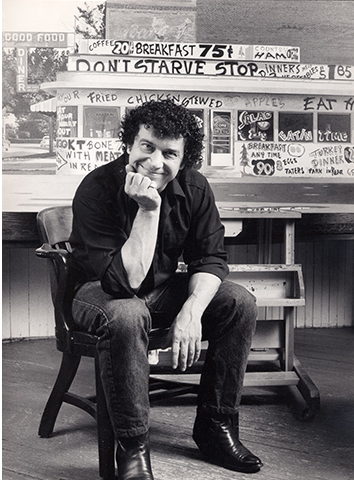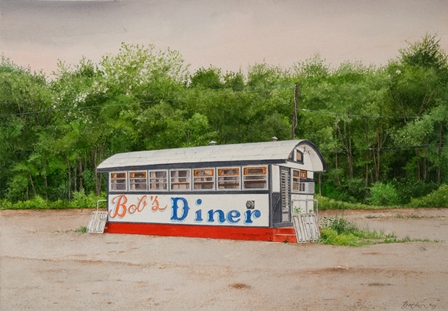 "Bob's Diner" by John Baeder
watercolor, 15 1/2"x 22 1/2", 2009